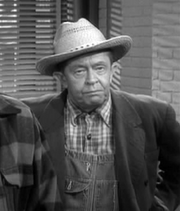 Forrest Lewis (November 5, 1899 - June 2, 1977) appeared in episodes of The Andy Griffith Show and Gomer Pyle U.S.M.C. His film appearances include Gildersleeve on Broadway, Has Anybody Seen My Gal?, The Lawless Breed, The Clown, Francis Covers the Big Town, Escape from Fort Bravo, All That Heaven Allows, The Sheepman, Tammy and the Doctor, Man's Favorite Sport? and the Disney films The Shaggy Dog, The Absent-Minded Professor and Son of Flubber.
Ad blocker interference detected!
Wikia is a free-to-use site that makes money from advertising. We have a modified experience for viewers using ad blockers

Wikia is not accessible if you've made further modifications. Remove the custom ad blocker rule(s) and the page will load as expected.