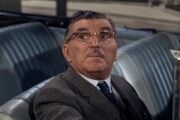 Original Airdate
February 13, 1967
Plot
The building holding Floyd's barbershop goes up for sale, and Howard Sprague buys it. But due to some of the expenses increasing, Howard is forced to raise Floyd's rent from $50 to $65/month in order to get a 5% return on his investment. Floyd becomes angry and tears up the lease, deciding to move his shop to Mt. Pilot. While he's working on finding a new location, Howard brings a potential renter (Mr. Coefield) in who will turn it into a more modern shop, but remove the community bulletin board and checkers table. Mr. Coefield offers Howard $75/month. Andy tricks Floyd and Howard into showing up to his office at the same time, and explains that they'll both be better off since Floyd will have more business in Mt. Pilot and Howard will get higher rent. Floyd and Howard decide that the barbershop was an important community meeting place, which falls into Andy's plan. Ultimately they decide to meet halfway on the rent, with Howard coming down by $7.50 and Floyd going up by $7.50.
Notes
According to Jack Dodson (Howard Sprague) in the book "The Andy Griffith Show by Richard Kelly, this is the last episode that Howard McNear filmed. McNear appears later in this season, so perhaps they were filmed out of order.
Cast
Crew
Ad blocker interference detected!
Wikia is a free-to-use site that makes money from advertising. We have a modified experience for viewers using ad blockers

Wikia is not accessible if you've made further modifications. Remove the custom ad blocker rule(s) and the page will load as expected.