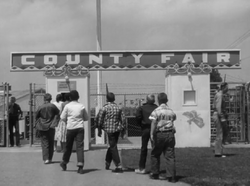 The "Fair Grounds" are located just outside of town. It was where Mayberry would handle such events as county fairs and carnivals.
Appearances
Edit
The Pickle Story (A pickle contest is being judged during the county fair. There is also rides and cattle judging amongst other activities)
Opie and the Carnival (Opie does his best to when his Pa a prize, but fails to realize the carnies are giving him a faulty rifle.
Image Gallery
Edit
Image Gallery
Edit
Ad blocker interference detected!
Wikia is a free-to-use site that makes money from advertising. We have a modified experience for viewers using ad blockers

Wikia is not accessible if you've made further modifications. Remove the custom ad blocker rule(s) and the page will load as expected.