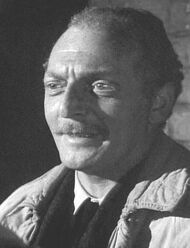 Everett Sloane (October 1, 1909 - August 6, 1965) wrote the lyrics for the opening theme, "The Fishin' Hole", which were never used in any episode of The Andy Griffith Show. He also appeared in one episode. He was nominated for an Emmy Award for his performance on an episode of "Kraft Television Theatre" and played the recurring role of Andres Felipe Basilio on Disney's "Zorro". His film appearances include Citizen Kane, Journey into Fear, The Lady from Shanghai, Prince of Foxes, The Men, The Enforcer, Sirocco, The Desert Fox: The Story of Rommel, The Blue Veil, The Big Knife, Patterns, Somebody Up There Likes Me, Lust for Life, Marjorie Morningstar, Home from the Hill, By Love Possessed, The Man from the Diner's Club, The Patsy and The Disorderly Orderly. He was awarded a star on the Hollywood Walk of Fame. Everett, fearing he was going blind, committed suicide by barbiturate poisoning; he was 55.
Appearances
Edit
Season 2-
Ad blocker interference detected!
Wikia is a free-to-use site that makes money from advertising. We have a modified experience for viewers using ad blockers

Wikia is not accessible if you've made further modifications. Remove the custom ad blocker rule(s) and the page will load as expected.