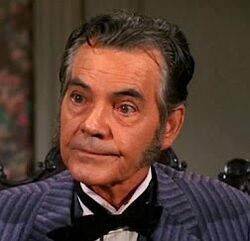 Eddie Quillan (March 1907 - July 1990) is an American actor who portrayed the Bell Hop in the episode The Taylors in Hollywood.
Born in Philadelphia, Pennsylvania on March 31, 1907, Eddie Quillan was seven years old and already performing in vaudeville with his sister and three brothers in an act called "The Rising Generation." His parents, Joseph Quillan and Sarah Quillan, were well-known performers with Joseph himself managing the family act. Booked in such top places as the Orpheum Theatre, the kids eventually took a screen test for Mack Sennett but only Eddie was chosen. Beginning with the short film A Love Sundae (1926), Eddie would make nearly 20 two-reeler shorts with Sennett.
Remaining bio can be found via Eddie's IMDB page; link below.
External Links
Edit
Ad blocker interference detected!
Wikia is a free-to-use site that makes money from advertising. We have a modified experience for viewers using ad blockers

Wikia is not accessible if you've made further modifications. Remove the custom ad blocker rule(s) and the page will load as expected.