Corporal Gilbert Slater, better known as 'Duke', is Gomer's best friend in the Marines. Unlike Gomer, he has few scruples and is not above putting one over on Gunnery Sergeant Carter, much to the consternation of Gomer. Eventually, Duke attains the rank of Corporal.
Appearances
Edit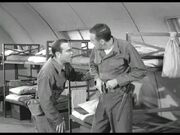 Ad blocker interference detected!
Wikia is a free-to-use site that makes money from advertising. We have a modified experience for viewers using ad blockers

Wikia is not accessible if you've made further modifications. Remove the custom ad blocker rule(s) and the page will load as expected.