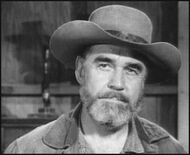 Douglas Fowley (May 30, 1911 - May 21, 1998) appeared in episodes of The Andy Griffith Show, Gomer Pyle U.S.M.C. and Mayberry R.F.D. His film career includes The Thin Man, Alexander's Ragtime Band, Cherokee Strip, Don't Fence Me In, The Hucksters, Mighty Joe Young, Across the Wide Missouri, Angels in the Outfield, Singin' in the Rain, The Band Wagon, Casanova's Big Night, The High and the Mighty, The Geisha Boy, Barabbas, Disney's Miracle of the White Stallions, 7 Faces of Dr. Lao, Disney's Run Cougar Run, Walking Tall and Disney's The North Avenue Irregulars. He also played the recurring role of Doc Holliday on the TV series "The Life and Legend of Wyatt Earp".
Ad blocker interference detected!
Wikia is a free-to-use site that makes money from advertising. We have a modified experience for viewers using ad blockers

Wikia is not accessible if you've made further modifications. Remove the custom ad blocker rule(s) and the page will load as expected.