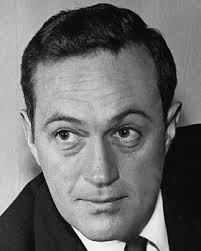 Don Haggerty (July 1914-August 1988) was an American born actor. He is known for his work on The Life and Legend of Wyatt Earp (1955), The Killers (1964) and King of the Rocket Men (1949). He died on August 19, 1988 in Cocoa, Florida, USA. He portrayed Ralph Hanes in the episode Class Reunion.
Trivia and Facts
Edit
Actor Dan Haggerty ("Grizzly Adams") has the dubious distinction of being the only actor to ever have his name removed from the Hollywood Walk of Fame. The Hollywood Chamber of Commerce chairman mistakenly spelled "Dan Haggerty" on the plaque when the honor was supposed to have gone to Don. Dan later was honored with his own star.
Burly, granite-jawed "B" action actor during the 1940s and 1950s who worked at pretty much every studio in town at one point or another, but spent a lot of time at Republic Pictures. Was as adept at playing tough detectives and mob killers in urban crime thrillers as he was at playing sheriffs and cavalry officers in westerns or tough sergeants and the hero's buddy in war pictures.
A star athlete at one time at Brown University.

(Information from Don Haggerty IMDB)
Ad blocker interference detected!
Wikia is a free-to-use site that makes money from advertising. We have a modified experience for viewers using ad blockers

Wikia is not accessible if you've made further modifications. Remove the custom ad blocker rule(s) and the page will load as expected.