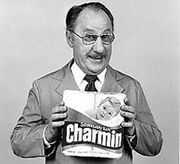 Dick Wilson (July 30, 1916 - November 19, 2007) appeared in one episode of Mayberry R.F.D. Best remembered as the character Mr. Whipple on TV commercials for Charmin Bathroom Tissue, he also played recurring roles on "McHale's Navy" and "Bewitched". His film appearances include two appearances with Don Knotts, The Ghost and Mr. Chicken and The Shakiest Gun in the West, and the films Our Man Flint, Star!, The World's Greatest Athlete, The Incredible Shrinking Woman and Cheech and Chong: Get Out of My Room.
Ad blocker interference detected!
Wikia is a free-to-use site that makes money from advertising. We have a modified experience for viewers using ad blockers

Wikia is not accessible if you've made further modifications. Remove the custom ad blocker rule(s) and the page will load as expected.