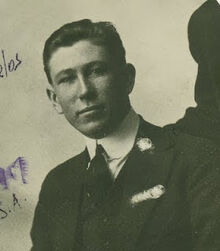 Delos Jewkes (October 21, 1895 - July 17, 1984) was a bass singer who appeared in two episodes of The Andy Griffith Show. He appeared onscreen or in the soundtracks of the films Naughty Marietta, San Francisco, Rose-Marie, Hit Parade of 1937, Broadway Melody of 1938, The Wizard of Oz (as Munchkin voices), My Gal Sal, Du Barry Was a Lady, The Curse of the Cat People, Dressed to Kill, Stars and Stripes Forever, A Man Called Peter, The Ten Commandments (as the voice of God), The Music Man (with Ron Howard), The Love God? (with Don Knotts) and Disney's Bedknobs and Broomsticks. He can also be heard in the Merrie Melodies cartoon Have You Got Any Castles? as Old King Cole. Jewkes also appeared in "Curse of the Cat People" as one of the strolling Christmas carolers, and had a brief but very amusing part, both singing and speaking, in "Walking on Air" (1936), an Ann Sothern/Gene Raymond movie.
Appearances
Edit
Ad blocker interference detected!
Wikia is a free-to-use site that makes money from advertising. We have a modified experience for viewers using ad blockers

Wikia is not accessible if you've made further modifications. Remove the custom ad blocker rule(s) and the page will load as expected.