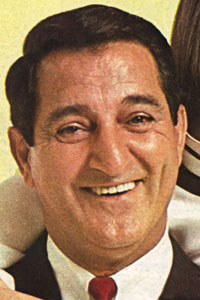 Danny Thomas (born Amos Alphonsus Muzyad Yakhoob, January 6, 1912 – February 6, 1991) was an American nightclub comedian and television and film actor, best known for starring in the television sitcom Make Room for Daddy, or The Danny Thomas Show. He is also the founder of St. Jude Children's Research Hospital.
Biography
Edit
Thomas was born in Deerfield, Michigan, to Charles Yakhoob and his wife Margaret Christen. His parents were Maronite Catholic immigrants from Lebanon. Thomas was raised in Toledo, Ohio, attending St. Francis de Sales Church (Roman Catholic), Woodward High School and finally The University of Toledo. Thomas was confirmed in the Catholic Church in Toledo by Samuel Stritch who was bishop of Toledo at the time. Stritch, a native of Tennessee, would be Thomas's spiritual advisor throughout his life and subsequently urge him to locate the St. Judes Hospital in Memphis. He married Rose Marie Cassaniti in 1936, a week after his 24th birthday. Thomas first performed under his Anglicized birth name, "Amos Jacobs", before choosing the stage name, "Danny Thomas", which were the names of two of his brothers. His brother Tom Jacobs appeared as an extra on The Andy Griffith Show.
On January 1, 1959, Thomas appeared with his Make Room for Daddy child stars, Angela Cartwright and Rusty Hamer, in an episode of NBC's The Ford Show, Starring Tennessee Ernie Ford. During his successful 13-year run (1953–1965) on Make Room for Daddy, which was later known as The Danny Thomas Show, Thomas became a successful television producer (with Sheldon Leonard and Aaron Spelling among his partners), working on many popular shows including "The Dick Van Dyke Show", The Andy Griffith Show, and "The Mod Squad". Thomas also produced three series for Walter Brennan, "The Real McCoys", "The Tycoon" and "The Guns of Will Sonnett", all on ABC during the late 1950s and 1960s.
Apperances
Edit
(Pilot for The Andy Griffith Show)