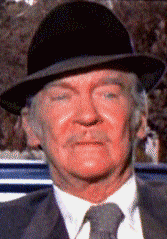 Dan Tobin was born October 19, 1910 in Cincinnati, Ohio and died November 26, 1982 in Santa Monica, California. He appeared in one episode of The Andy Griffith Show as well as one episode on Hogan's Heroes (Season 4 Episode 7). He played the recurring role of Terrence Clay on "Perry Mason". His film appearances include Woman of the Year, Undercurrent, The Bachelor and the Bobby-Soxer, Mr. Blandings Builds His Dream House, The Magnificent Yankee, Dream Wife, The Catered Affair, The Last Angry Man, How to Succeed in Business without Really Trying and Disney's Herbie Rides Again.
Appearances
Edit
Season 1-
Ad blocker interference detected!
Wikia is a free-to-use site that makes money from advertising. We have a modified experience for viewers using ad blockers

Wikia is not accessible if you've made further modifications. Remove the custom ad blocker rule(s) and the page will load as expected.