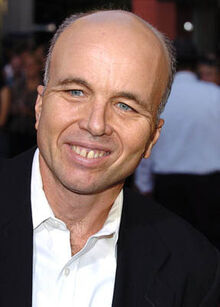 Clint Howard (born April 20, 1959), the brother of Ron Howard and the son of Rance Howard, played Leon on The Andy Griffith Show. As a child, he also played recurring roles on the TV series "The Baileys of Balboa", "Please Don't Eat the Daisies" and "Gentle Ben", & in a episode of Star Trek, Called The Corbomite Maneuver . His film appearances include The Courtship of Eddie's Father, Gentle Giant, Disney's The Wild Country, I Never Promised You a Rose Garden, Harper Valley PTA, Rock 'n' Roll High School, Tango & Cash, Disney's The Rocketeer, Ice Cream Man, Forget Paris, That Thing You Do!, Austin Powers: International Man of Mystery, The Protector, The Waterboy, Austin Powers: The Spy Who Shagged Me, My Dog Skip, Little Nicky, Austin Powers in Goldmember, Pauly Shore Is Dead, The Cat in the Hat, Fun with Dick and Jane, How to Eat Fried Worms, Halloween, Play the Game (with Andy Griffith) and Night at the Museum: Battle of the Smithsonian.
Clint has appeared in sixteen films directed by his brother Ron, Grand Theft Auto, Night Shift, Splash, Cocoon, Gung Ho, Parenthood, Backdraft, Far and Away, The Paper, Apollo 13, EdTV, How the Grinch Stole Christmas, The Missing, Cinderella Man, Frost/Nixon and The Dilemma. His voice has appeared in the animated Disney films Winnie the Pooh and the Honey Tree, The Jungle Book and Winnie the Pooh and the Blustery Day and in Universal's Curious George.
Image Gallery
Edit
Ad blocker interference detected!
Wikia is a free-to-use site that makes money from advertising. We have a modified experience for viewers using ad blockers

Wikia is not accessible if you've made further modifications. Remove the custom ad blocker rule(s) and the page will load as expected.