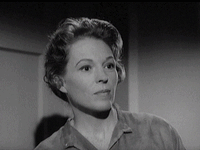 Claudia Bryar (May 18, 1918 - June 16, 2011) appeared in two episodes each of The Andy Griffith Show and Gomer Pyle U.S.M.C. She appeared in the films Giant, I Was a Teenage Frankenstein, A Big Hand for the Little Lady, The Shakiest Gun in the West (with Don Knotts), Angel in My Pocket (with Andy Griffith), Gaily Gaily, Bad Company, Ace Eli and Rodger of the Skies, Pat Garrett & Billy the Kid and Psycho II.
Ad blocker interference detected!
Wikia is a free-to-use site that makes money from advertising. We have a modified experience for viewers using ad blockers

Wikia is not accessible if you've made further modifications. Remove the custom ad blocker rule(s) and the page will load as expected.