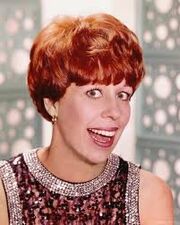 Carol Burnett
(born April 26, 1933) appeared in two episodes of
Gomer Pyle U.S.M.C.
She starred on the TV series
"The Carol Burnett Show"
and "Mama's Family", and appeared on "The Garry Moore Show",
"The Twilight Zone"
,
"The Lucy Show"
, "The Jim Nabors Hour",
"Sesame Street"
,
"The Muppet Show"
,
"Magnum P.I."
,
"Mad about You"
and "All My Children". Her film appearances include
Who's Been Sleeping in My Bed?
,
Rowan & Martin at the Movies
,
Pete 'n' Tillie
,
The Front Page
,
A Wedding
,
The Four Seasons
,
Chu Chu and the Philly Flash
,
Annie
,
Noises Off
,
The Trumpet of the Swan
,
Horton Hears a Who!
,
Post Grad
and
The Secret World of Arriety
. She has won six of 23 Emmy Award nominations and was honored with a star on the Hollywood Walk of Fame. She was also a recipient of the Presidential Medal of Freedom at the same time that the award was granted to
Andy Griffith
.
Ad blocker interference detected!
Wikia is a free-to-use site that makes money from advertising. We have a modified experience for viewers using ad blockers

Wikia is not accessible if you've made further modifications. Remove the custom ad blocker rule(s) and the page will load as expected.