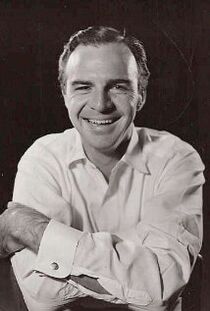 Brad Olson (1926 - 1981) was a professional actor--a member of SAG, AFTRA and Actors Equity--with 35 years of professional experience, beginning in the Theater Arts Department of Texas University. He had a short television and film resume, which included Laffing Time (1959), Spring Affair (1960), The Andy Griffith Show (1961) and Harlow (1965).
Biography
Edit
His extensive theater background includes leading and principal roles in approximately 400 plays, ranging from classical theater to musical comedy, appearing with Arthur Treacher, Uta Hagen, Basil Rathbone, Diana Barrymore, Mae West and Alan Alda, among others. He acted and directed at Margo Jones Theater, performed at National Classic Theater, Pasadena Playhouse and Theatre-By-The-Sea, later touring extensively as a principal with The John Kenley Players. His TV appearances include guest-starring roles on such shows as The Andy Griffith Show (1960), The Steve Allen Plymouth Show (1956), Manhunt (1959), Stage 13 (1950) and Danger (1950), among others. He has made 24 Class "A" commercials, which have been shown on such early series as Studio One in Hollywood (1948), The Kaiser Aluminum Hour (1956) and Westinghouse Preview Theater (1961). He has been a television announcer, radio announcer, hosted symphonic broadcasts and wrote program notes, hosted his own symphonic program and created other music formats and copy, as well as news broadcasts. "To Ricki - With Pride" series, with Eddie Dowling. He was a comedy writer for Paul Lynde on The Hollywood Squares (1965). He operated his own photography studio and darkroom, doing professional portrait photography, and was published in Bazaar and Vogue magazines. He was an expert marksman, horseman and, early on, professional jazz musician. He enjoyed writing songs, plays and working on a book in his spare time. He is survived by a daughter who is following in her father's footsteps to become an actor and a singer.
Appearances
Edit
Season 2-
External Link
Edit
Ad blocker interference detected!
Wikia is a free-to-use site that makes money from advertising. We have a modified experience for viewers using ad blockers

Wikia is not accessible if you've made further modifications. Remove the custom ad blocker rule(s) and the page will load as expected.