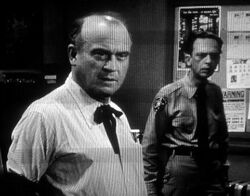 Talbot was the Mayberry postman in two episodes of The Andy Griffith Show. In one episode, he is called "Talbot", and in the other he is called "Billy Ray". Barney and Talbot got in a heated debate about his wanted posters. Later this behavior would be more well known between Barney and Otis Campbell. He was portrayed by Dub Taylor.
Appearances
Edit
Season 1-
Season 2-
Image Gallery
Edit
Ad blocker interference detected!
Wikia is a free-to-use site that makes money from advertising. We have a modified experience for viewers using ad blockers

Wikia is not accessible if you've made further modifications. Remove the custom ad blocker rule(s) and the page will load as expected.