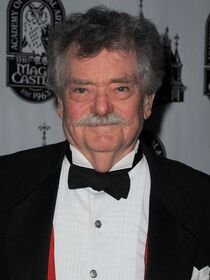 Bernard Fox (May 11, 1927 - December 14, 2016) played Malcolm Merriweather on The Andy Griffith Show. He played the recurring characters of Alfie Wingate on "Make Room for Daddy", Colonel Crittendon on "Hogan's Heroes" and Dr. Bombay on three series, "Bewitched", "Tabitha" and "Passions". His film appearances include A Night to Remember, The Longest Day, The List of Adrian Messenger, Munster Go Home!, Star!, Big Jake, The Private Eyes (with Don Knotts), Yellowbeard, 18 Again!, Titanic, The Mummy and the Disney films The Million Dollar Duck, The Rescuers, Herbie Goes to Monte Carlo and The Rescuers Down Under.
Ad blocker interference detected!
Wikia is a free-to-use site that makes money from advertising. We have a modified experience for viewers using ad blockers

Wikia is not accessible if you've made further modifications. Remove the custom ad blocker rule(s) and the page will load as expected.