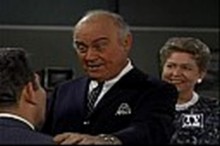 Ben Beechman is the brother-in-law to Emmett Clark and brother to Martha Clark. He arrives in town from Raleigh and talks about his successful career in insurance. Ben's sister Martha pressures Emmett into selling insurance policies. Ben trains Emmett on sales, and has him go to his friends first. He continues to correct Emmett and hound him about sales. Eventually Emmett goes back to his Fix-It Shope to do what he loves best, fixing things. Ben was portrayed by Dub Taylor.
Appearances
Edit
Season 8-
Ad blocker interference detected!
Wikia is a free-to-use site that makes money from advertising. We have a modified experience for viewers using ad blockers

Wikia is not accessible if you've made further modifications. Remove the custom ad blocker rule(s) and the page will load as expected.