There are several songs by and about Barney that add to his legend. Here are two he wrote, and some others you may recall:
"The Ballad of Andy and Barney" or "The Gangster's Mistake"Edit
(Sung to the melody of "Frankie and Johnny")
Andy and Barney were lawmen.
Bravest you ever did see.
Warned every crook in the record book to stay out of Mayberry.
They were the law (Yes, they were the law),
And they didn't know fear.

Pretty Boy Floyd come a ridin',
Dillinger, too, big as life. They weren't alone.
There was Al Capone and in back was Mack the Knife.
They were the law (Yes, they were the law).


"Oh, My Darin' Barney Fife"
Edit
(Sung to the melody of "Oh, My Darlin' Clementine")
In a jailhouse, down in Dixie, fightin' crime and risking life,
Dwelled a sheriff and his buddy, pistol-packing Barney Fife.

Oh, my darin' oh, my darin' oh, my darin' Barney Fife,
He's a deadly crime-stopper, what a copper, Barney Fife.

One day there came a-ridin' two bad men to rob a bank.
But Fife was tricky, a dead-eye dickey. Now they're locked up in the tank.
(Andy added the following couplet.)
Oh, my Barney, oh, my Barney, had a jail and couldn't lock it.
Had one bullet for his pistol, had to keep it in his pocket.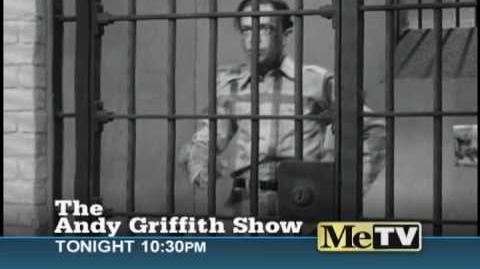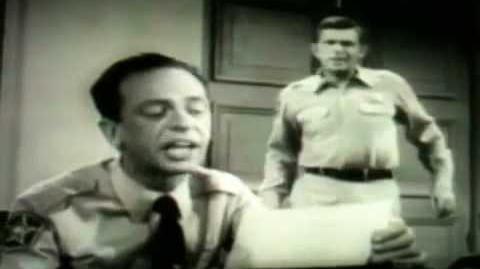 A small ditty written about Barney on the bank wall
Edit
There once was a deputy named Fife,
Who carried a gun and a knife.
The gun was all dusty,
And the knife was all rusty,
Because he never caught a crook in his life.


Barney's tribute to Juanita
Edit
Juanita, Juanita
Lovely, dear Juanita
From your head down to your feet,
There's nothing half so sweet,
As Juanita, Juanita, Juanit.
Oh, there are things of wonder,
Of which mean like to sing.
There are pretty sunsets and birds upon the wing,
But of the joys of nature,
None truly can compare,
With Juanita, Juanita, she of beauty beyond compare.
Juanita, Juanita, love dear Juanit.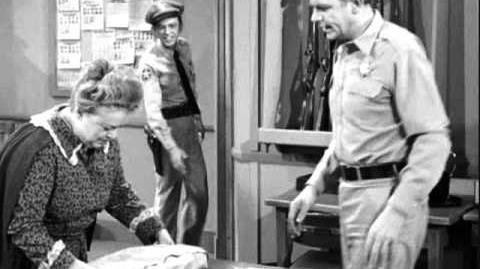 Ad blocker interference detected!
Wikia is a free-to-use site that makes money from advertising. We have a modified experience for viewers using ad blockers

Wikia is not accessible if you've made further modifications. Remove the custom ad blocker rule(s) and the page will load as expected.