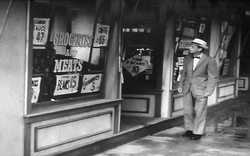 Barney's Salt and Pepper suit was Barney's nicest suit. He would wear it to dances, social events or on dates. He wore it throughout the series.
The first appearance of Barney wearing his suit was in the episode Irresistible Andy.
Don Knotts wore the suit in a few feature length films also, such as The Incredible Mr. Limpet, The Ghost and Mr. Chicken and Return to Mayberry
Image Gallery
Edit
Ad blocker interference detected!
Wikia is a free-to-use site that makes money from advertising. We have a modified experience for viewers using ad blockers

Wikia is not accessible if you've made further modifications. Remove the custom ad blocker rule(s) and the page will load as expected.