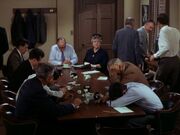 Original Airdate
October 23, 1967
Plot
Notes
Cast
Crew
"Trivia"
This was the second appearance for Jack Nicholson in The Andy Griffith Show. The previous season he played Mr. Garland in "Opie finds a baby".
Ad blocker interference detected!
Wikia is a free-to-use site that makes money from advertising. We have a modified experience for viewers using ad blockers

Wikia is not accessible if you've made further modifications. Remove the custom ad blocker rule(s) and the page will load as expected.