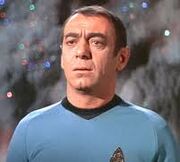 Arthur Batanides
(April 9, 1922 - January 10, 2000) appeared in episodes of
The Andy Griffith Show
and
Gomer Pyle U.S.M.C.
His film appearances include
Black Tuesday
,
The Ten Commandments
,
The Unearthly
,
The Leech Woman
,
Spartacus
,
The Maltese Bippy
,
Brannigan
,
Police Academy 2: Their First Assignment
,
Police Academy 3: Back in Training
,
Police Academy 4: Citizens on Patrol
and
Police Academy 6: City under Siege
.
Ad blocker interference detected!
Wikia is a free-to-use site that makes money from advertising. We have a modified experience for viewers using ad blockers

Wikia is not accessible if you've made further modifications. Remove the custom ad blocker rule(s) and the page will load as expected.