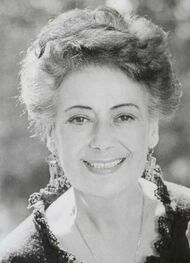 Argentina Brunetti (August 31, 1907 - December 20, 2005) appeared in episodes of The Andy Griffith Show and Gomer Pyle U.S.M.C. Her film appearances include Gilda, The Return of Monte Cristo, It's a Wonderful Life, Captain Carey U.S.A., Broken Arrow, The Great Caruso, Ghost Chasers, Sirocco, My Cousin Rachel, The Caddy, The Prodigal, The Last Command, The Tall Men, The Rains of Ranchipur, Anything Goes, The George Raft Story, 7 Faces of Dr. Lao, Stage to Thunder Rock, The Money Trap, The Appaloosa, The Shakiest Gun in the West (with Don Knotts), Disney's The Barefoot Executive, and Fatso.
Ad blocker interference detected!
Wikia is a free-to-use site that makes money from advertising. We have a modified experience for viewers using ad blockers

Wikia is not accessible if you've made further modifications. Remove the custom ad blocker rule(s) and the page will load as expected.