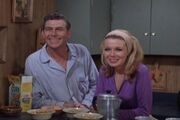 Original Airdate
January 30, 1967
Plot
Andy's old girlfriend Alice comes back to town. Helen gets jealous of Alice and Andy tries to set her up with Howard. They all spend the weekend in Alice's cabin. Andy and Alice can't sleep and individually go out for a midnight walk and then they get lost together. Howard and Helen are not happy. Andy comes up with a tall tale and gets caught in the lie. Helen runs off into the woods with Andy following, proving to Helen that it is possible to get lost in the woods.
Notes

Songs
.
Crew
Ad blocker interference detected!
Wikia is a free-to-use site that makes money from advertising. We have a modified experience for viewers using ad blockers

Wikia is not accessible if you've made further modifications. Remove the custom ad blocker rule(s) and the page will load as expected.