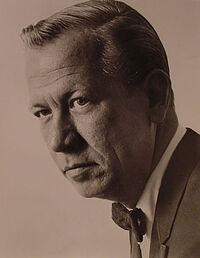 Allan Melvin (February 18, 1923 - January 17, 2008) appeared in episodes of The Andy Griffith Show and Mayberry R.F.D. and played Sergeant Charlie Hacker on Gomer Pyle U.S.M.C. His other notable recurring TV roles were Corporal Steve Henshaw on "Sergeant Bilko", Sam Franklin on "The Brady Bunch" and Barney Hefner on both "All in the Family" and "Archie Bunker's Place". He provided the cartoon voices of Sgt. Snorkle on "Beetle Bailey" and Officer Pupp on "Krazy Kat", both for Paramount's Famous Studios. He was Magilla Gorilla on Hanna-Barbera's "The Magilla Gorilla Show" and Troggles on Disney's "Adventures of the Gummi Bears". His feature film appearances include With Six You Get Eggroll (directed by Howard Morris) and Pufnstuf (as the voice of H.R. Pufnstuf). He also played Al the Plumber in Liquid-Plumr drain cleaner commercials.
Ad blocker interference detected!
Wikia is a free-to-use site that makes money from advertising. We have a modified experience for viewers using ad blockers

Wikia is not accessible if you've made further modifications. Remove the custom ad blocker rule(s) and the page will load as expected.