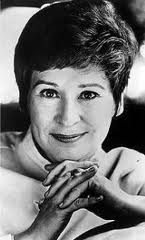 Alice Ghostley
(August 14, 1926 - September 21, 2007) played
Alice Cooper
on
Mayberry R.F.D.
She also played recurring roles on the TV series "Car 54, Where Are You?", "The Jackie Gleason Show", "Captain Nice", "Bewitched" (as Elmeralda), "Temperatures Rising", "Good Times", "One Day at a Time", "Small Wonder", "Designing Women" (as Bernice Clifton, for which she received an Emmy Award nomination), "Evening Shade" and "Passions". Her film appearances include
New Faces
,
To Kill a Mockingbird
,
My Six Loves
,
The Graduate
,
With Six You Get Eggroll
(directed by
Howard Morris
),
Viva Max
,
Ace Eli and Rodger of the Skies
,
Gator
,
Rabbit Test
,
Grease
,
The Odd Couple II
and Disney's
Whispers: An Elephant's Tale
.
Ad blocker interference detected!
Wikia is a free-to-use site that makes money from advertising. We have a modified experience for viewers using ad blockers

Wikia is not accessible if you've made further modifications. Remove the custom ad blocker rule(s) and the page will load as expected.