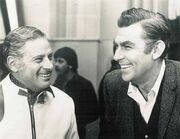 Aaron Ruben (March 1, 1914 - January 30, 2010) was co-creator and producer of The Andy Griffith Show and Gomer Pyle U.S.M.C. He also served as director and writer for episodes of both series. The character he played on an episode of "Gomer Pyle" was named after series producer Richard O. Linke. Other TV shows produced, directed or written by Aaron Ruben include, "The Milton Berle Show", "Caesar's Hour", "The Phil Silvers Show", "The New Andy Griffith Show", "Sanford and Son" (for which he received three Emmy Award nominations), "C.P.O. Sharkey", "Too Close for Comfort" and "Matlock" (starring Andy Griffith). He produced and wrote the 1969 film The Comic. He appeared in the TV reunion specials Andy Griffith Show Reunion and Inside TV Land: The Andy Griffith Show.
Ad blocker interference detected!
Wikia is a free-to-use site that makes money from advertising. We have a modified experience for viewers using ad blockers

Wikia is not accessible if you've made further modifications. Remove the custom ad blocker rule(s) and the page will load as expected.