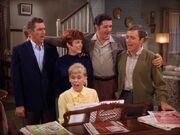 Original Airdate
March 25, 1968
As the proverbial fifth wheel, Andy and Sam persuade Goober to explore dating. Goober completes a questionairre from a dating service and answers the questions inadvertently, incorrectly. For example, applicants are asked how many books they read each month. Goober answers 30, because he considers comic books as "books". Goober is paired with the creator of the questionairre (Dr. Edith Gibson) who is extremely educated. As their date progresses, Edith gets to know Goober and realizes that they may have more in common as she once believed plus the thought of a slower paced life in a small town is appealing. The episode ends with Edith joining Sam, Doris, Andy and Helen on a date with Goober at Sam's house as they sing together at the piano.
Notes
Goober mentions occasionally seeing Juanita in this episode but she's been spending her nights with Harold Fossett at the lake from 8pm to Midnight lately.
Edith's phone number in Mt. Pilot is 4872.
Goober mentions getting a haircut from the new barber in town though a name is never mentioned. Floyd's last appearance on the show was in "Goober's Contest" the year before.
Cast
Ad blocker interference detected!
Wikia is a free-to-use site that makes money from advertising. We have a modified experience for viewers using ad blockers

Wikia is not accessible if you've made further modifications. Remove the custom ad blocker rule(s) and the page will load as expected.