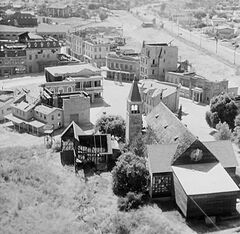 The "40 Acres" back lot was the location where the exterior shots of The Andy Griffith Show were filmed. It was actually about 29 acres of land in Culver City, California. It worked as a backdrop for numerous silent films as well as Gone With the Wind. By 1976 the back lot was in disrepair and bulldozed.
Interior Filming
Edit
Interior shots of The Andy Griffith Show were filmed at the Desilu Studios in Cahuenga at stages 1 & 2.
Image Gallery
Edit
External Links
Edit
Ad blocker interference detected!
Wikia is a free-to-use site that makes money from advertising. We have a modified experience for viewers using ad blockers

Wikia is not accessible if you've made further modifications. Remove the custom ad blocker rule(s) and the page will load as expected.